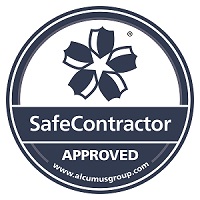 Safe Contractor Approved
Press Release
Top Safety Accreditation renewed again for Spalls Clean
"Local business Spalls Clean have been awarded accreditation from Alcumus SafeContractor for achieving excellence in health and safety in the workplace.
Alcumus SafeContractor is a leading third party accreditation scheme which recognises extremely rigorous standards in health and safety management amongst contractors. It is used by thousands of organisations in the UK including SMEs and FTSE 100 companies.
With over 180 employees/subcontractors, Spalls Clean are principally involved in the Cleaning sector, specialising in the Window Cleaning and other cleaning industries. Spalls's ever growing clientele includes major players such as One Housing Group and Regis Corporation.
The company's application for SafeContractor accreditation was driven by the need for a uniform standard across the business. SafeContractor accreditation will enhance the company's ability to win new contracts, and its commitment to safety will be viewed positively by its insurers when the company liability policy is up for renewal."